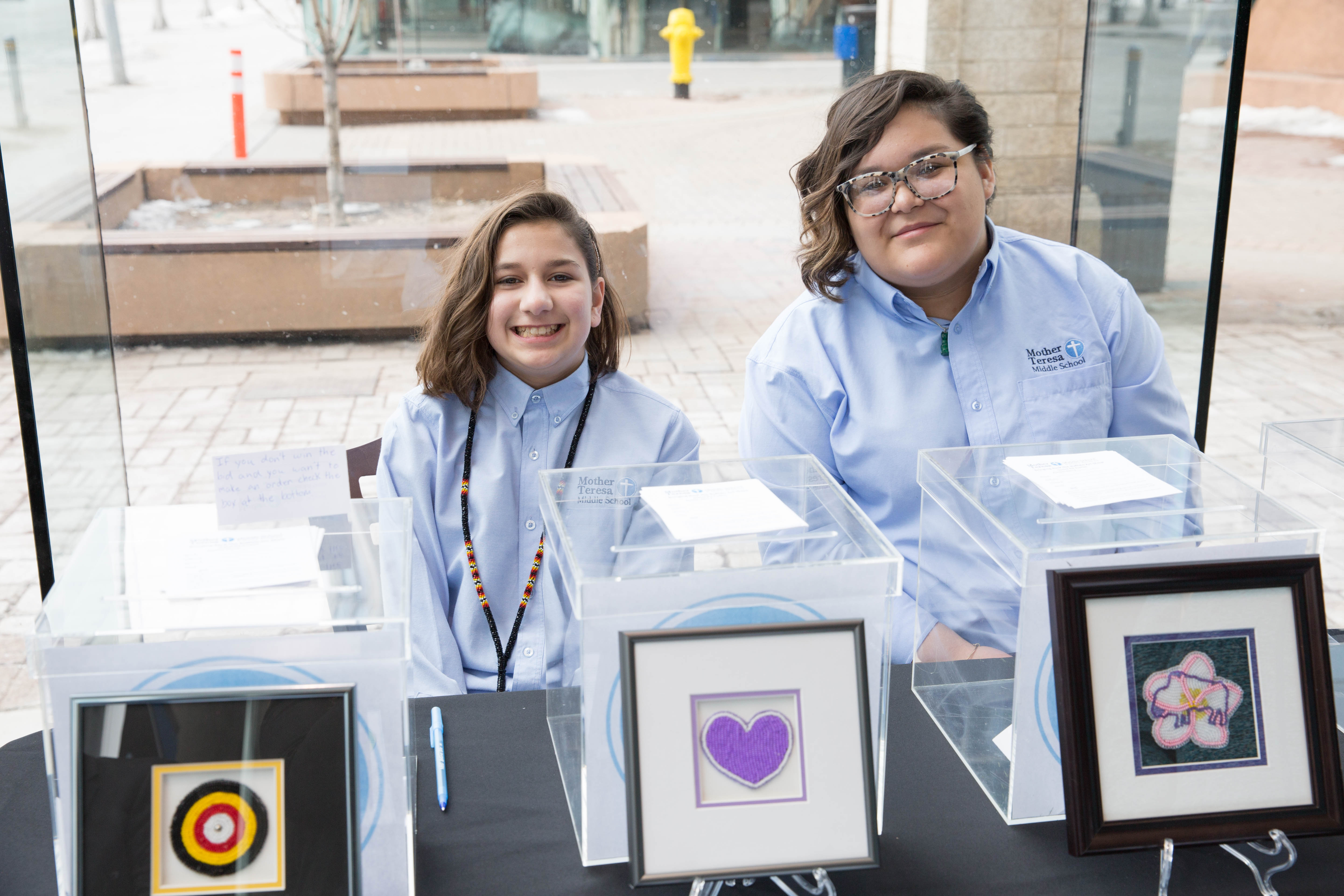 Nine student artists recently had the opportunity to showcase their talents at the, first ever, Bringing Back the Buffalo Art Show. The show was held in Hill Tower II in downtown Regina on March 28. MTMS Artist in Residence, Lorne Kequahtooway joined the students, showcasing some of his own work and sharing his knowledge with show attendees. Kequahtooway and his team at Buffalo People Arts Institute have been working with MTMS students for the past two years, sharing traditional Buffalo Teachings, art forms and ceremony.
Students and staff started this year's project, in September, taking part in a traditional Indigenous Sweat Lodge ceremony. They then spent a week working with the Buffalo People Arts Institute team to scrape and tan a buffalo hide, which is now being used in various art pieces. Several times a week, throughout the school year, Lorne and his wife Joely come into the classroom to teach the Grade 6,7 and students about beading and other traditional art forms. Each lesson comes with cultural teachings around the significance of the Buffalo.
Students have completely embraced the teachings and their incredible talent was evident from the moment they picked up the needle. Seeing their work framed and on display instilled huge amounts of pride in them. Watching as people bid on their pieces and knowing their work will be proudly displayed in someone's home or office is something the students say, is pretty amazing.
"It think it's really cool that someone will hang my art on their wall," says Grade 7 student, Drayden.
The Bringing Back the Buffalo Art Show raised over $1,000 that will go towards sustaining the Bringing Back the Buffalo program. MTMS is blessed to have received funding for the 2017/18 Artist in Residence program from the Saskatchewan Arts Board and Sask Culture. Evan Bray graciously donated the framing of each piece.
If you would like to learn more about this program or any of the cultural offerings available to our students, please email us at info@mtmschoolregina.com.