A student at Mother Teresa Middle School (MTMS) leans forward in their chair, focused on the drawing board as MTMS alum, Valerie De Sosa shows them how to draw a character. Students are taking part in Genius Hour, an hour of after-school enrichment programming that is part of the innovative education model at MTMS. De Sosa relishes the opportunity to come back to the middle school and share her passion with current MTMS students by instructing a Creative Design program during Genius Hour. "Afterschool programs are important. They give students the chance to build friendships, and connections and discover their passions," said De Sosa, who recently completed the Vancouver Institute of Media Arts (Van Arts) Games, Art, and Design program.
Attending Van Arts was a dream come true for De Sosa. "I never really thought that I would be able to overcome the financial barrier to go to a school like VanArts, which has one of the best arts programs in Canada. It's an extensive program where you learn about everything from coding and 3D models to lighting, and animation. They prepare you with a professional-level certification to get into the game or film industry," said De Sosa.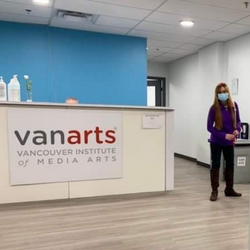 You just need to have patience and faith. The belief MTMS had in me helped me achieve my goals. - MTMS Alum, Valerie De Sosa
De Sosa had an interest in drawing characters and visual storytelling from a young age. "I like to study and learn new things, what I like about art is that I get to learn, and interpret things in my own way," said De Sosa. She felt that her passion was supported all the way from middle school to completing her program at VanArts. "The teachers would always encourage me and tell me that my drawings were nice. I remember Mr. Rieder (MTMS Grade 8 teacher) putting up my artwork on his board in the classroom," recalls De Sosa.
The Graduate Support Program (GSP) helped her navigate the application process and find scholarship opportunities to pursue her educational goals at VanArts. "When VanArts came back and said I was accepted, it was exhilarating!", said an enthusiastic De Sosa. With the GSP's help and financial support, she could focus on her program and discover her full potential at VanArts. "While in Vancouver, it made me realize if I work hard enough, I could do anything I set my mind to. The more that I believed in myself, the more I was able to focus on my goal", said De Sosa. She also felt supported by MTMS from over 1,700 km away. "The College and Careers Coach would check in on me to see how I was doing. It was great to have that support, it was comforting to know when you are in a city that is new to you that you can reach out with an email anytime," said De Sosa.
De Sosa finds joy in giving back and sharing what she learned throughout her educational journey at MTMS. She encourages current students to explore their passions and be open to growth. "Even if the odds are against you, that doesn't need to define you. Do what makes you happy, there is always more than one path to success in life and a lot of different niches that people can explore. I ended up drawing and went into game design and now I'm working and have clients for games. You just need to have patience and faith. The belief MTMS had in me helped me achieve my goals," said De Sosa.