Kindness – The quality of being friendly, generous, and considerate. (Oxford Languages)
Trevon Ironchild, a grade 6 student and aspiring entrepreneur at Mother Teresa Middle School (MTMS), was pitching an idea, Dragons' Den style, with a couple of his classmates to a local entrepreneur, philanthropist and great friend of the school, Stephen McIntosh. This moment was a perfect example of how being Open To Growth can be a catalyst for exciting new opportunities.
"The inspiration behind my idea for the MTMS toques project came from a conversation with my mom. We talked about kindness; holding a door open for someone, sharing and speaking nice words. Kindness is a powerful thing. This conversation started because of an incident that I was involved in at school," said Ironchild. By choosing to display the words "Be Kind" on the back of the toque, it's a prompt to choose compassion, at the school and within the community. "It's a reminder to others that being kind is the right thing to do and showing kindness to others is meaningful. It might be a good saying for someone to see if they are having a rough day," explained Ironchild.
To help spread the message of kindness Ironchild recruited fellow grade 6 classmates Anton Panaligan, and Hunter Aisaican-Lerat. "When I heard that we were the first students to do a project like this, that got me excited and I wanted to get involved. To me, kindness is about spreading hope," said Aisaican-Lerat. "It's exciting because the toques can help remind people to help each other out," Panaligan added.
It's a reminder to others that being kind is the right thing to do and showing kindness to others is meaningful. It might be a good saying for someone to see if they are having a rough day." - Trevon Ironchild
As part of MTMS's innovative education model, students have the chance to engage in experiential learning and lean into the talents and skills of the community. The group of eager students had the opportunity to collaborate with Stephen, learning from his knowledge and past experiences to perfect a thoughtful, well articulated pitch.
"I thought the pitch was a great success," Panaligan said with a smile. As did Stephen, a confirmation the project was moving forward. He tasked the group with determining how to best distribute the toques, to ensure the meaning and purpose of the project was translated to all who would wear the toque. "We didn't want to just hand the toques out, we wanted people to understand the importance of kindness, how they can spread kindness themselves and what it means when you wear the toque," said Ironchild.
To raise awareness, posters were created and displayed around the school by the Mother Teresa Entrepreneurship Club (MTEC), a club created three years ago from after-school enrichment programming, thanks to the time and vision of Stephen himself. MTEC consists of a handful of student representatives from each grade, each of whom prepared a presentation for their classmates, before presenting the new piece of school clothing. The presentations were exciting and passionate! Classmates left energized and united by a common goal; the spirit of kindness.
To build and leave a legacy for MTMS students is a large commitment but Ironchild says that MTEC is up for the challenge. "It's something that we can build on during our time at MTMS and hopefully continue to do in future years," said Ironchild. Besides spreading kindness, the toques have also provided some other advantages. "It's been pretty cold outside so that's another benefit to the toques," said Ironchild with a laugh. Each student and staff at MTMS was presented a toque, with the hope that each is worn with a message of kindness being circulated around the school and the community. We would like to extend a special thanks to Stephen for his time and support in making this project become a reality, as well as continuing to foster the entrepreneurial spirit at MTMS.
MTEC representatives (left to right: Cooper, Ann-Lynn, Hunter, Trevon, and Anton) put up posters promoting the toques around the school.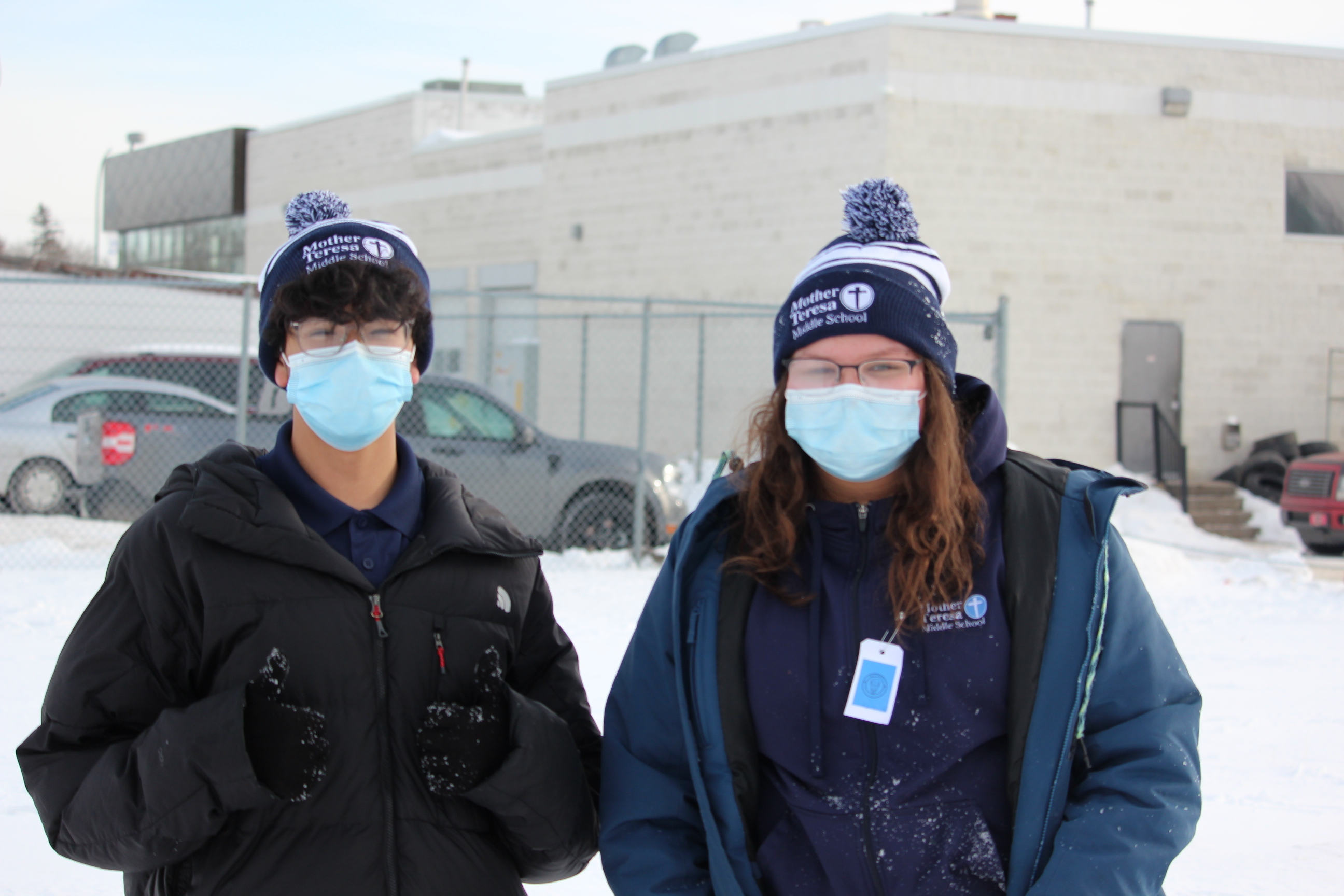 MTEC students Abraham and Ann-Lynn showcase the "Be Kind" toques around the school.